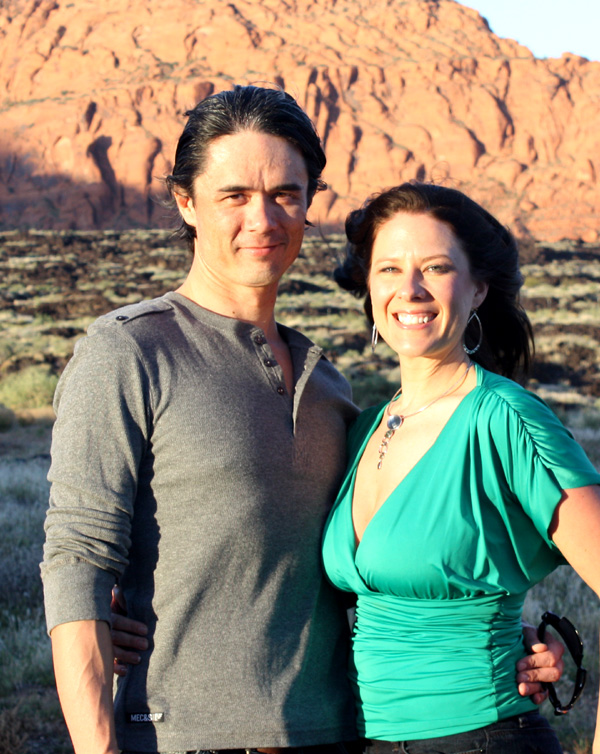 Friday morning Angie and I left Salt Lake and went down to the St George for my second Tour Del Sol. Angela scored us a three night stay at the Red Cliff Spa in Ivins, which is a beautiful spa resort set just in front of the red rocks of Snow Canyon. This is a really up and coming community that focuses on health and fitness. When we got in, we grabbed the race packet, hung out at the pool for an hour and then went to a greek place for dinner.
I wasn't able to sleep too well that night, only a few hours. In the morning we went up to the TT location and I was able to get a good solid warm up. I wasn't that nervous and hoping to kill it and tried to remember not to go out to hard, to just ramp myself up and pace it. I was able to catch my 30 second man (Nic Sells) about 1/3 into the race and was feeling pretty good. At the turn around I really pushed it on the slight uphill and kind of put myself into the red zone. From here it seemed like a pretty bad headwind and I was struggling hard. I pushed it all the way to the end but only managed 5th place out of 30 or so riders. To be honest I wasn't very happy with the result, the year before I would have been 2nd place on the day and only behind a couple of seconds.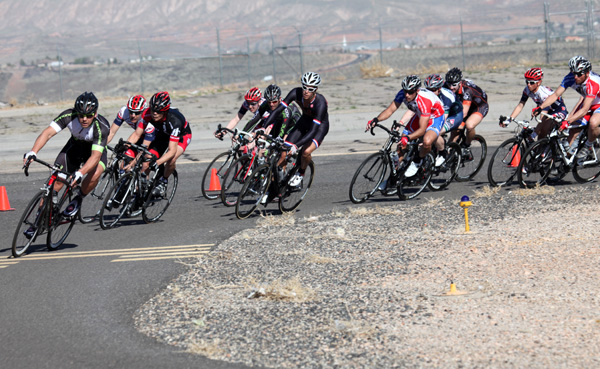 The crit was crazy, I was so nervous but glad that I put my ass on the line and did it. It was insanely scary because of the wind and a crash that happened in the group right before us. I was suprisingly calm though as we started, much more than I would have imagined. The first lap i was practically in the red zone and thinking, "I am cooked"! But i was able to get caught back on and then it slowed up a bit and i was able to get to the front. I finally was able to get into my groove and chase down a few attacks and put in a few digs on my own, I remember thinking to myself, I better at least try and throw down and do something to up my own game. I was able to hang in there most of the time but towards the end I got on some bad wheels and came off the back. I was able to get back almost to the pack right at the end and only lost about 14 seconds, which was pretty good considering it was my first Cat 3 crit and how little experience I have doing these.
The next day I was sitting in 7th place overall and only about a minute behind. I had a hard time sleeping again, but I was able to wake up and get all warmed up and on time to the race. Once the race started, i felt like i was immediately in the red zone. I felt like i was going to have one tough race ahead of me, right then i started to fall to the back and Ira told me that my rear brake was rubbing. I had to get off my bike and try to adjust it, by then the pack was gone and the wheel van did not have an allen wrench to fix it. I called Angie and then just rode back to the start, I was extremely dissapointed because i wanted to see how I would have ridden up the climbs and also would have loved to see how I would have placed overall. At the same time i was kind of glad it was over, I wasn't really looking forward to the race with how tired I was and the lack of sleep I had. When we got back we ate breakfast and took a nap.
Perhaps the best part of the trip was thinking about the possibility of moving down there. We went and looked at a few model homes and they were gorgeous and affordable, the only problem is being tied into the house I have here. With that said, i want to come up with a game plan on how we can make it happen and move down there.