I had a fun and exciting week in Park City last week doing the Tour of Park City and thoroughly getting my butt handed to me. Angie and I got a hotel at the Marriott at the last minute and were just a few minutes away from the start, luckily we went and found the place the night before. I was actually able to get a decent amount of sleep and woke up at 5:20 and got ready. I got up perhaps a little earlier than I needed to but it allowed me to get everything ready, eat, stretch, shower etc. I wasn't really too nervous but we got to the start and it was getting warm already. I saw a few friends at the start and then before I knew it they were staging the Cat 1-3 start. As soon as I pulled up, Nate and Ira pulled up next to me, and then Paco Mancebo pulled right up to us. It was soo cool being next to him at the start.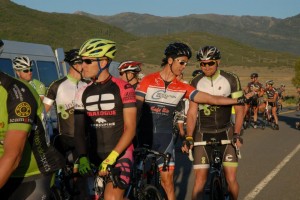 The race started pretty mellow and rolled on for about 30 miles before things started cooking. Mancebo was the first to attack, along with Jake. The pack just hung out and there wasn't too much action going on over the rolling hills until the race hit the dirt section, then shit really got cooking and hit the fan. I saw the race starting to fall apart and I went way deep within myself to keep up. Riders started falling back all around me and I scrambled to get onto the second chase group. I almost crashed coming down the last section going at about 30-35mph when a support car stopped in front of me. I was able to make it on with a lot of effort right as the dirt road ended and we headed to Evanston. From there the paceline was insanely hard, riders kept 'sitting on' which is what i should have done.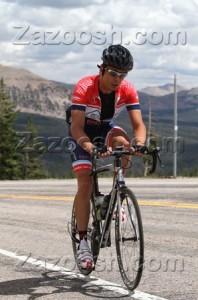 The pace was unrelenting and finally after Evenston I was unable to keep up and fell off the back. From there I was riding alone for nearly an hour before I saw the next group and we started working together. I fell off the back of that group as well right before the 95 mile mark. The hill climb was insanely hard, I felt like I was crawling up the mountain, but it was beautiful and fun after the fact. I finally made it over the top after taking two breif stops, then the rest was pretty much down hill and I began to gain back some energy. Finally on the second to the last climb I started getting into my groove and just wanted to pass at least one guy, which was a cat 2, and on the very last climb I passed a couple more. I thought I was close to the back but after the results came in I realized that I was in 10th place of a very brutal hard group. So many negative thoughts were going through my mind while I was riding, like quitting and not racing anymore, but that all went away pretty fast after the finish.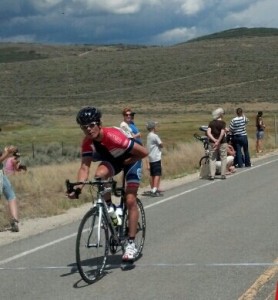 It was great to be done and cross the finish line and see my love Angela, who had completed her ride about an hour and a half earlier. We dinked around the finish line for a bit then went to the hotel, showered and freshened up, then went over to the KPCW festival a few blocks away on our bikes. It was fun to see everyone there and get a few bites to eat and talk to some friends. We hung out with Ira, Nate, Dina, German, Justin and Jake. After that we went back to the hotel and kicked it for a bit then walked up to Vinto and had dinner, it was such a perfect evening. The food at Vinto was amazing, Angie had a gluten free pizza and I had one with Sausage, we had a polenta and mushroom appetizer and then a piece of cheesecake for dessert. After dinner Angie and I walked down through the park and had a wonderful time.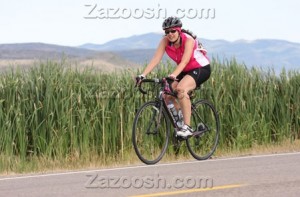 Angela had a great ride this day as well, she rode the 50 mile version of the Tour of Park City called the "Medio Fondo". She climbed over 3500 ft during her ride which went up over into Kamas to Francis, through Peoa and up Browns Canyon. Her ride took about 5 hours with rests and 4:24 of riding time. Her favorite part of the ride was getting her fastest speed of 45 mph!
http://app.strava.com/rides/15115863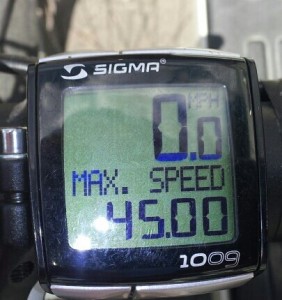 When we got back to the hotel, we sat in the hot tub for a bit and then went back up to the hotel room and just watched TV for a while until Angie fell asleep. I got the munchies and grabbed a few snacks from the 7-11. The next morning we went for breakfast at the eating establishment on main street, I had a delicious eggs benedict and buttermilk pancake.  After that Angie and I went over to the Park City outlets and kicked it for a bit, then went home and crashed out for a few hours, completely exhausted. We had planned to do more like go see a movie but we were completely wiped out. Monday I had Jake fix Angelas bike and get it all tuned up.