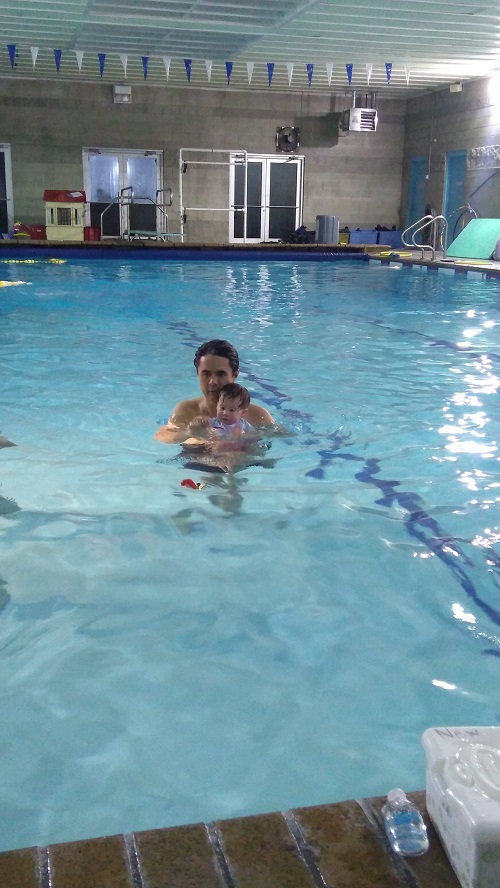 The holidays have been absolutely amazing and I had so much time to spend with my family. It was great taking 10 days off, the only other time I had done that was while I was on paternity leave. I did fun things with my family every day and got in to the habit of putting my baby girl to sleep every single night, and now it has been 2 months since I have done that. I will put her in my arms and rock her to sleep while she drinks a bottle, then pop a binkie in her mouth and let her fall asleep. I savor every moment and make sure i am so present, I think about how thankful I am for these moments and savor them.
Angie got me an amazing present for Christmas, daddy-daughter swim lessons. I did my first one in the last week in January and although I was sick as a dog, I wouldn't miss it for the world. It was such an amazing experience and was one of the happiest moments I have had. What a wonderful bonding moment with my daughter, she was so happy and stared into my eyes with the biggest smile and her twinkling eyes. I told one of my co-workers how amazing it was and she said that it was too bad she is too young to remember, but I disagree, I think these moments build that bond stronger between us. We take them into the pool and sing songs while we teach them swimming motions such as kicking, floating and paddling.
Liam has been an amazing big brother and loves to play with his little sister and teach her things. I have a hard time getting him to bed because he just loves being awake so much, as I write this he is laying in his bed and singing songs. I am so happy that I have these two children in my house and it is so fun to hear them talking and babbling with their cute little voices. I love my time with them and never want to be too busy for them. I love being a father and teaching them, but also having fun with them and making them laugh. I love holding Seneca and chasing Liam with him in my arms, this makes them both laugh and scream with excitement.
Work has been great, after a tough year I feel like I am back in action and our full team is firing. The mood is much better and we are off to a great start to the year. I am so thankful for my company and the amazing things that it gives to me and my family. I am so thankful for the Presidents Club trips that allow my family to have amazing experiences. I love that it allows my wife to be a stay at home mother and spend time with my baby. I love the challenges that make me a better person, and the relationships that my job gives me. I love being so close to work, and the home that I was able to purchase. I am excited to leave to Maui in a month from now and am having a blast getting prepared. I plan on riding my bike up Haleakala which is a bucket list item.
Fitness has been great up until getting sick 3 weeks ago. I had some high 1 hour threshold power numbers leading up to that and probably lost some fitness, but hopefully I can get on track soon.