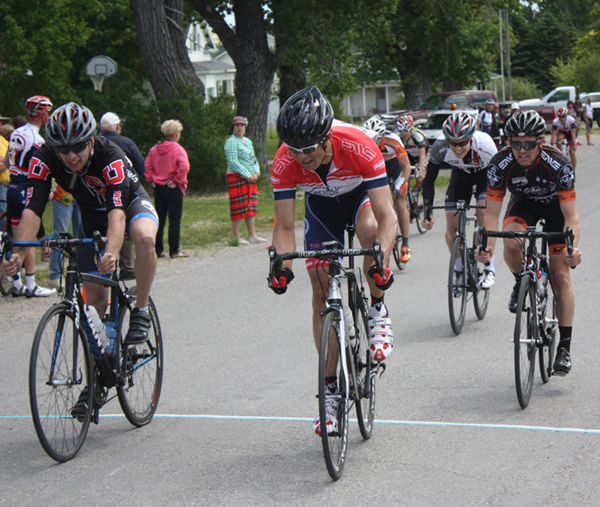 This year I was able to compete in all three of the State Championship events, the Time Trial, the Criterium and the Road Race. This year the UCA started something new, the "Overall State Champion" which gathered points from each race and totaled in a series to define the state champion from all disciplines. I was lucky enough to capture a fourth place in the time trial, a 3rd place in the road race and a 4th place in the criterium, sealing the deal with the most points of the cat 3 racers. What a great experience!
State Time Trial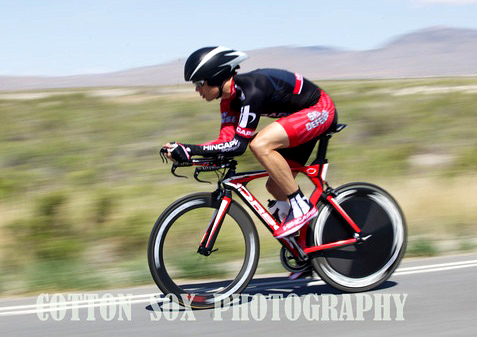 Memorial Day, 2012 was the State Time Trial championships. The evening before Ronnie and I went out to scope the course and ended up riding the entire 40km at an easy pace. The road was flat out and had some minor hills, but mostly flat and decent road. The next morning Angie and I drove out there and set up a place to warm up, everything went pretty well. I set out with 11 other riders and got into my rythmn pretty easily, ramping up to speed and catching my first guy within the first ten minutes. I felt like I was going pretty well, feeling strong and gaining on my rivals. I believe I passed two people by the time I turned around and about to catch my third. When I made the turnaround I saw two of the riders that started behind me, right on my tail, I was pretty shocked. Nevertheless I worked hard and kept them from gaining any more on me and actually had a pretty good kick in the end. Unfortunately I wound up 4th on the day, 1:30 down on the winner, and about a minute off Adam Catmull and Jared Prince. I guess I have some serious work to do on my Time Trialing.
State Road Race Championships at Little Mountain:
Friday I took the day off and got a hotel room up in Logan so that we could get a jump on the State Road Race on Saturday. It was awesome because I picked up Angie from work and we were able to get up to Logan before 7pm, then we went and ate an amazing dinner at the Indian Oven and had a few appitizers and a coconut Kurma, Chicken Tika Masala and some delicious Indian ice cream. The food had such great flavors and I had a great date with my love. After we ate we just wandered around Logan looking at some charming older homes around the neighborhood. It was perfect weather outside, nice and balmy. On our way back I found a cool used book store, it was pretty ghetto and Angies allergies were kicking up because of the dust but they had thousands and thousands of books for pennies on the dollar, i was able to get 4 books for $5. Then we went back to the hotel room and watched Sex in the City and then finally fell asleep.
I woke up at 5:45 AM and showered and got ready for my race, woke Angie up around 6:20 and then we ate a hot breakfast at the hotel. We were able to get on the road by 7am and after taking the wrong route and Angie helping me find the correct way, we made it to the race with not a lot of time to spare. This year was even worse than the prior year as far as bathrooms, they only had 2! i had to actually pee in someones driveway because there was no where else to go and a line down the block for the portables. I made it to the start and I really didn't feel that great, but finally we started to go. It took me a bit to warm up but the laps seemed to go by fast. Up the hills it always hurt and I felt a lot more sluggish than I normally do when climbing, just because its a short and steep climb without being able to get properly adjusted. The race was action packed the entire time, with lots of attacks and stuff.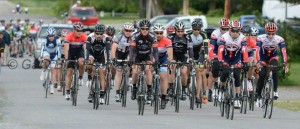 On the 3rd lap I was trying to get my water bottle from Angie and I dropped it, so i was quickly running out of water. As I came around for the fourth lap I found myself off the front of the pack with maybe 20 seconds lead, I just went with it without going too hard, but it gave me a head start up the climb and the best part is I was able to slow down and get my water bottle this time and as the pack swallowed me up a break started and I was easily able to hitch on. We rotated and got a small lead but to my suprise as efficient as we seemed to be we didn't stay away even the whole lap, getting caught just before the final climb. On the climb I barely hung onto the leaders, but we did create a decent gap and was able to go with it. There was a lot of playing around in the lead up miles to the finish, and when it slowed down at one point I attacked and got a way for a bit, not too long but enough to put a little pressure on the pack, but more importantly show initiative and that I wanted it.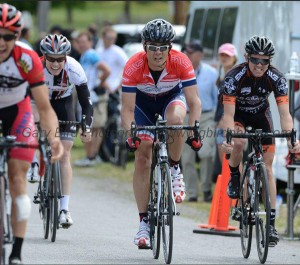 There was about 9 of us left at this point and still we were going to slow, I told the guys that we needed to pick it up or we would get caught again, so finally another guy attacked and the race finally started moving as we approached the finish. Somehow I ended up in last place coming into the final 200 meters but came around everyone, I missed first and second place but then nipped third by less than a wheel lenght by 'throwing' my bike. It was a great experience and gave me more points in the UCA as well as gave me the lead in the Overall State Champion points series. Only the Criterium remained.
State Criterium Championships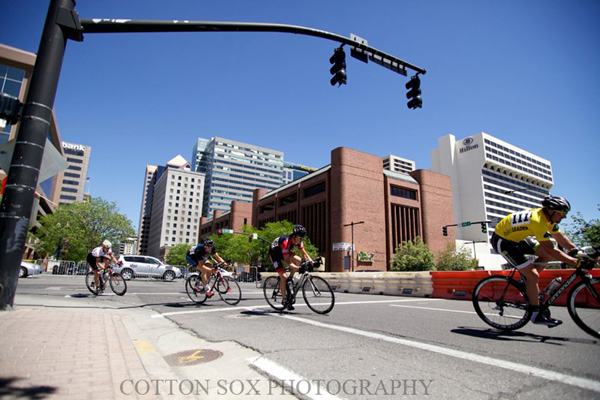 The Criterium was the big day for me, a chance to win the Overall State Champion title. I had made 26 points with a 4th place and a 3rd place in the State TT and Road Race. The only thing left was the crit, and I had to finish either in 10th or better place or stay within 9 places of Ira. It sounded like i was going to do pretty well, just knowing that I only had to beat 5 of the pre-signed up people. I tried not to self-talk bad about myself, saying that I am bad at crits or whatever.
This day was going to be a hot one, over 100 degrees, so I tried to drink a lot of water leading up to the race, and not eat too much. I felt like I got a good jump on things but as usual I was running behind and scrambling to get caught up. When I got down town and got my race number, I was already behind and my car was parked in an underground parking lot. As I went back to get ready, I realized that I had lost my number. I put it in my backpack but it must have fallen out on my way to my car. I frantically went back to search for it, and luckily I found it on the lawn of the Salt Palace, but now i was running even further behind. I was flustered trying to get my bike onto my trainer, my number pinned, and all my gear ready. In the end I only had about 10 minutes to warm up, but perhaps that was a good thing.
When we lined up to race, instead of the 17 riders that had signed up before hand, there were close to 30, which really freaked me out and made me wonder if I would even have a chance at getting enough points. Right before the race started, I doused myself with water to cool me off, I could hardly swallow it was so hot. The race started with a fast pace, just as expected. Immediately I fell off the back and just tried to hang in there, and on the third lap there was a wreck that somehow I managed to slip through. The laps started counting down and i could hear Angela, Alexa, Damian and a few others cheering for me.
As I bit the time and counted the two primes, I eventually started moving up in the pack and felt like I was getting my groove on. Everytime I went around and heard someone cheering for me, I would push myself to move up a little more. About 40 minutes into the race, i saw a gap of a few bike lengths and I attacked to bridge up to these two guys. Suddenly there was a split in the pack and I took the reigns and went for it. The next lap I could here Angie yell "Look, he's winning!", which gave me quite a bit of inspiration and made me push it even further. Ira was in the group along with Chad Vansolkema, Jason Goodfellow and a few others.
There were only a few laps left and then finally I could hear the last lap bell ring. I was pushing the pace but no one would help, I didn't care though, I just wanted the points and I knew if we got away then I would secure the overall. As I came around the final corner, I pulled off and the sprint started, I just rode in on my own to take 7th place, which in the end was good for 4th since 3 people were disqualified. Apparently the 3 that I bridged up to were lapped and then thrown out at the end. I wish I would have known that, I would have pushed for a higher placing, and I should have just gone for it anyway since I had nothing to lose and was clear of the rest of the pack. Lesson learned, but it still worked in my favor to finish out the series with enough points for the overall. It was a great day!