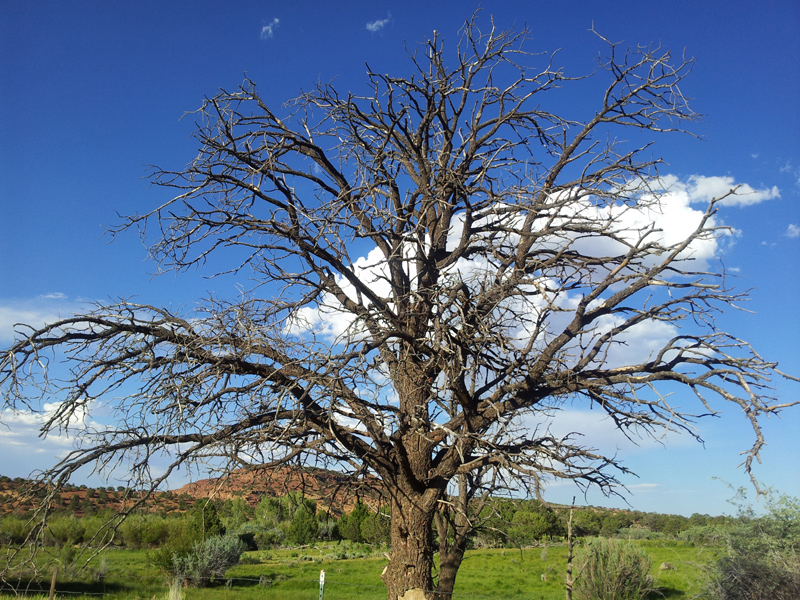 The week after the State Crit Championships Angie and I went down and spend a couple days down in Capitol Reef and it was a great time. We stayed at a little bed and breakfast in Teasdale. We left early on Friday, around 2pm and passed a few big fires on the way down there. There was a huge fire in Scipio that colored the skies. We got into town about 6pm and were able to go for a bike ride on the circuit course, it was great to ride with Angie and she got going about 41 mph down one of the hills. After that we went back and got changed and then went to Diablo for dinner.
The next day I got up early and Penny from the Bed and Breakfast cooked for us, then I left about 9AM and rode up to Fishlake and back around the backside and coming down Johnson Valley Resevoir and into Freemont, then back through Loa, Lyman, Bicknell and up to Teasedale, for an 80 mile ride. After I got back I showered and Angie and I went and got a lunch over at Slackers Burger Joint in Torrey, then went back to the B&B and took a nap. After that we went on a hike, trying to reach the Fruita Overlook in Capitol Reef. We ran out of daylight though but still had a fun and beautiful hike in. After that we went back and showered again, then went out to dinner at a cowboy bar in Torrey, which was pretty fun. Then the next day we drove up to Fish Lake around the back side and went to the lodge for a bit, took a few photos and then went on our way back home.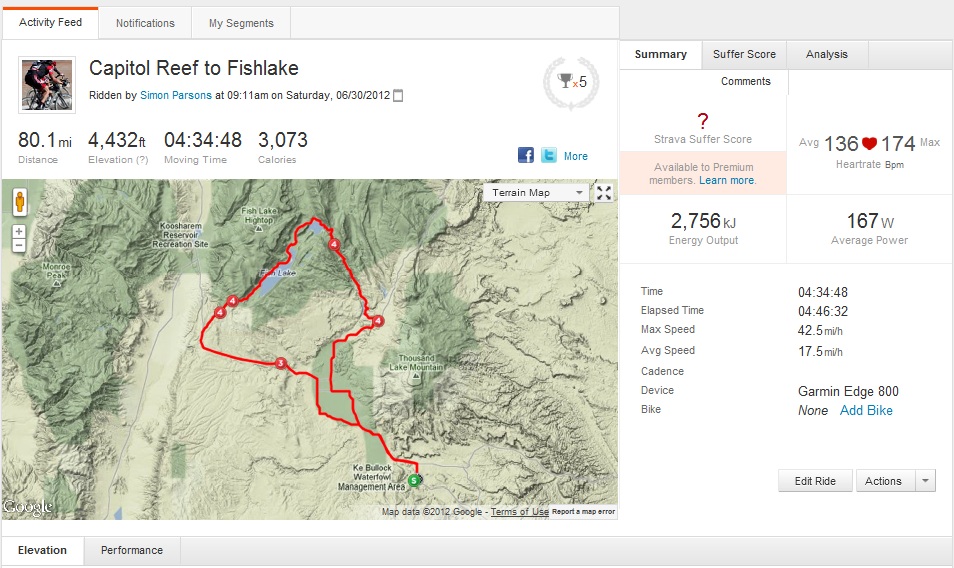 The following week was kind of a short one with the fourth of July and on Monday after a day off from riding I did a huge ride, 4.5 hours doing big and little Cottonwood canyons. Did a recovery ride the next day and then went large on my day off and rode out to Henefer which took about 6.5 hours and was 100 miles. That evening I just hung out with Angela and we cooked dinner and ate on the patio, the rest of the week was pretty chill, doing long rides and raced the Porcupine hill climb on Saturday.
The Porcupine hill climb was great, I was able to get 3rd place in the Cat 3′s. I had a great warmup for the race and got to the start warm. The race started out pretty hard and it took me a few minutes to get into my own and get to the front group, which split right at storm mountain. I had to dig really deep to get into a good chase group and basically spent most of the race in this group. We caught up with some Cat 1 & 2s and the pace was pretty high up until Silver fork where I started to fall behind, although i wasn't too concerned b/c i couldn't see a lot of 3′s ahead of me. I ended up finishing in 1:06:54 which was a new best time for me so I was happy. After we did the awards ceremony Angie and I went down to the Porcupine grill and ate breakfast. Later that night we went out and had Indian food downtown, it was a great day. The next day I did a 62 mile ride.
The past week I did some big climbing rides on Monday and Wednesday, Sandy to Alta and both sides of Suncrest on Monday, then just Alta on Wednesday. I did the Saltair TT on Thursday and it was so hot that I had a hard time riding without drinking lots of water, but still had a decent time I felt, but still 11 seconds behind Adam Catmull. On Friday night we went out to dinner at Shogun and the food was absolutely horrible, then went to the Bar Deluxe to see Alexa, but got there an hour early and ended up sitting around for a long time but we made the best of it. I ended up bailing on the race in Heber I was planning on doing, thankfully only 4 people showed up, so I did much better by going on my own ride and doing 5.5 hours on my bike and 100 miles. Yesterday i was so wiped out that i didn't do much of a ride, more like a recovery. I spent most of the day just hanging out and tired.
http://www.cafediablo.net/